Offer a Parisian river cruise aboard Le Paris en Scène Boat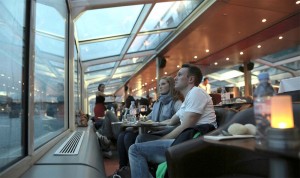 Paris en Scène welcomes you so that you can enjoy a Parisian river cruise any time of the year. Relax in the comfort of a leather club chair and discover an exceptional view of the French capital's beautiful monuments unfurl before your very eyes. Our concept is to offer you a Parisian dinner cruise with a meal prepared on board just for you.
 What could be more original or unexpected than offering the ones you love a Parisian river cruise? Enjoy time with your friends and family during dinner or brunch on board a boat where you can relax and admire the views of the capital? We also welcome you for all your corporate events. Send us your request for an estimate for 20 people or more and our team will make every effort to ensure a hugely successful river cruise.